DEPECHE MODE - THE SINGLES TOUR 86 98
---
News in Estonian
19.09.1998
There are some more photos of Tartu, using
this link
.
17.09.1998
Many photos were taken in Tartu concert. Some of them are here waiting for you to watch.
Dave 01
Dave 02
Dave 03
Dave 04
Dave 05
Dave 06
Dave 07
Dave 08
Dave 09
Dave 10
Dave 11
Dave 12
Dave 13
06.09.1998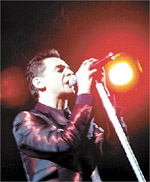 The concert, Depeche Mode performed in Tartu on the 2nd of September, is over. Lots of good memories, 100 % worth of watching show, which brought over 10 000 people to Tartu Festival Arena. Seven fans from the Estonian Depeche Mode Fan Club plus several journalists had a chance to meet the band before the concert and get some autographs.
The feedback of the Estonian press has been extremely positive.
Songs, which were performed in Tartu:
Painkiller / A Question Of Time / World In My Eyes / Policy Of Truth / It's No Good / Never Let Me Down Again / Walking In My Shoes / Only When I Lose Myself / A Question Of Lust / Home / Condemnation / In Your Room / Useless / Enjoy The Silence / Personal Jesus / Barrel Of A Gun
Somebody / Stripped / I Feel You
Just Can't Get Enough
26.08.1998
The pub called "Nimega Baar" in Tartu will organize a WARM UP party for Depeche's upcoming concert on the 1st of September. Big screen plus DM music. If you are the owner of the Estonian Depeche Mode Fan Club membership card and want to buy a drink, you'll get 10 percent discount.

Don't forget that there also will be a huge AFTERPARTY right after the concert which takes place in Tartu - nightclub XS (Vaksali 21). Stay tuned ... !
14.08.1998
The train, which takes people to the contcert in Tartu, is called Johanna and will be specially decorated by the Estonian Depeche Mode Fan Club. Ticket selling will start soon and the price will be 170 kroons per ticket. There will be also lots of DM music and music videos during the trip. Plus live interviews with Raadio 2.
01.08.1998
According to Estonian newspaper Postimees (31.07), there will be a special train between Tallinn and Tartu on the 2nd of September which takes people to the concert.
30.07.1998
The support act in Depeche's Tartu concert will be
Purity
.Get some more information at their
WWW site
.
16.07.1998
According to Estonian press, Depeche Mode will come to Tartu straight from London by plane, though at the beginning there was a plan to get them to Estonia from Riga by bus. They won't stay at night, but go back to Riga immediately afte r the show. In Riga DM will stay at Radisson hotel.

3000 tickets have been sold in first week.
15.07.1998
13.07.1998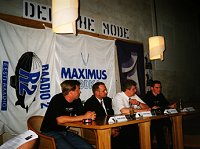 The press conference was held in Tallinn on the 7th of July, where the organizer of Depeche's Tartu contcert, Gamma Agency, gave some information to the press about what's up. Tickets selling started on Wendsaday the 8th and they can be found in Alexela petrol stations, record shop KOSMOS CONTROL in Tallinn and Tartu Ferstival Arena. The price is 390 kroons until August 1st.
The Estonian Depeche Mode fan club president
Craig Tislar
also took place in the press-conference and he was given the first ticket to the concert (number 000001).
All the journalists were given press-information and the following day there were some articles in Estonian newspapers.
In addition to that, Craig Tislar was also invited to give an interview before the press-conference in radio station
Radio 2
and after the press-conference he gave one more to
Eesti Raadio
.